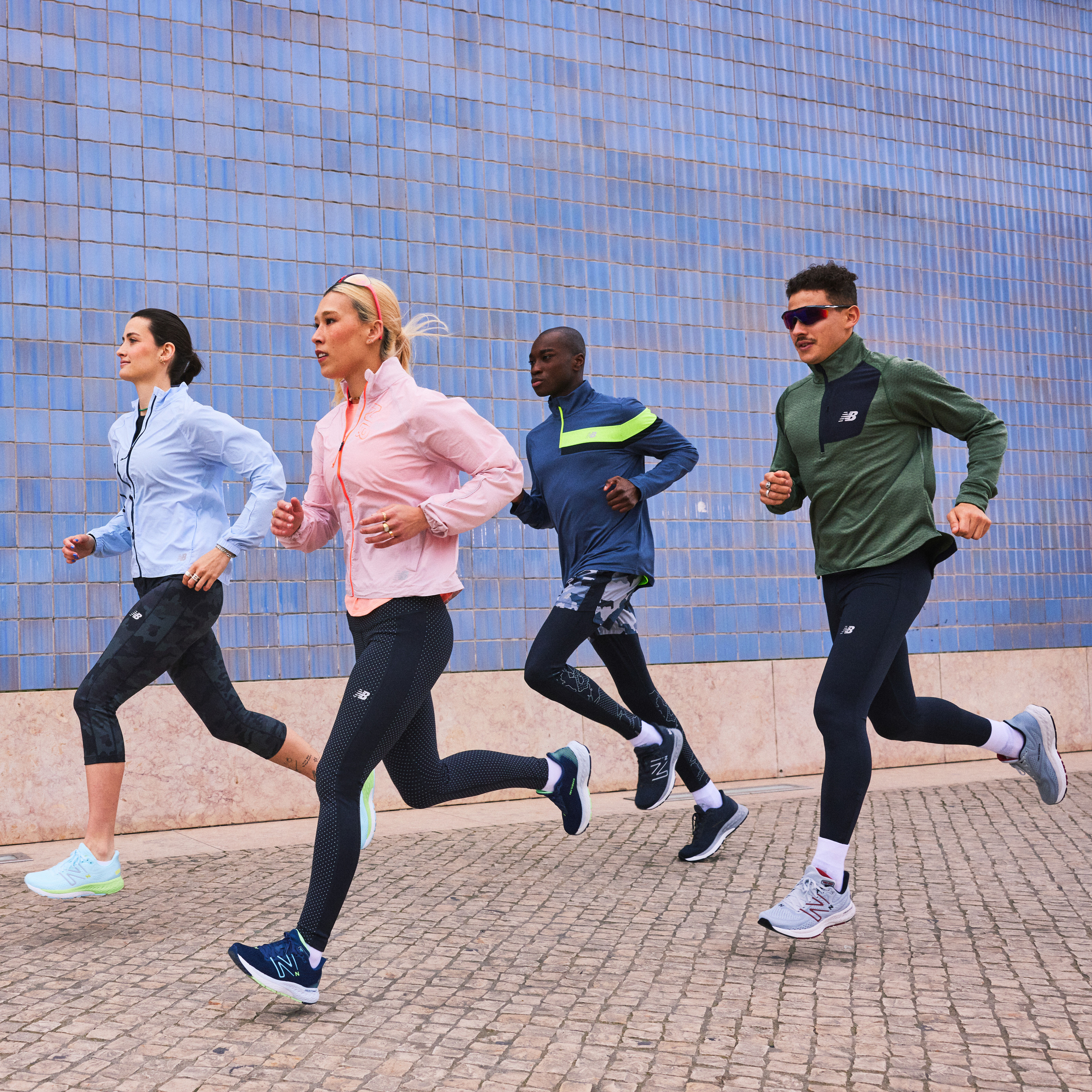 Is breaking in shoes a myth?
We all know the feeling: you pull out your box-fresh brand-new running shoes, all pristine and perfect. You can't wait to experience them, to feel the difference between your much-loved but soon-to-be-retired tattered old runners. You slip them on, tie your laces, and off you go.
But wait – shouldn't you be spending time breaking in running shoes first? For many years, the idea of cautiously breaking in trainers before showing them some serious action has been a popular one. But with modern running trainers, built using advanced materials and design technology, runners can now unbox and go with more confidence than ever before.
However, your feet and your running shoes can only form that special relationship with one another if you give them both the respect that they deserve. How you treat your new trainers is crucially important when it comes to their life cycle and longevity, and how much benefit they can deliver to your feet.
How to break in shoes without hurting feet
So while you won't need to break in running shoes in the old sense, it's still vital to take some time to make sure your new trainers are exactly right for your feet. Today's trainers and race shoes are built to feel comfortable and cushioned immediately. But if you're about to enter a race, you should aim to do at least one run beforehand.
Try running at a few different speeds, to give yourself a sense of how your shoes respond. Think of it less as breaking into new shoes, and more about analysing them closely. You're making sure they're going to help you achieve your goals without pain or injury. One vital thing to be aware of is that if your shoes don't feel right from the outset, then there's a very good chance that things won't improve. Is it normal for new running shoes to hurt? No. A period of adjustment from old shoes to new is normal, but pain is something else entirely.
If things don't feel right, you shouldn't hold back from replacing your running shoes for a different option as soon as possible. For that reason, it's wise to take to the treadmill for your first run in your new running trainers. Doing so means they won't get mudded up or dirty from tracks and trails, and you'll also avoid sustaining damage to the tread. This improves your chances of successfully returning your shoes and getting a more suitable pair – but make sure you take the time to learn the shoe returns policy first.
Comfortable running shoes
While you're in your stride on the running machine, you should be on the look-out for a few things to confirm you picked the right pair:
• Your running shoes should feel comfortable straight away. Don't fool yourself into thinking that a little pain now will be worth it when your shoes adapt. They should fit to your feet already, and you can give yourself a better chance of achieving this by trying on the shoes in a running shop before you buy them, and getting your gait analysed.
• Wearing the correct size of running shoes is crucial. That doesn't just come down to what your regular shoe size is - it's a good guide, but you should bear in mind other factors like running socks and the fact that your feet swell during running. If your shoes are too tight you could suffer chafing or blisters in the long term, so be aware of any tightness as you wear your running shoes for the first few times. Focus on width and how much space your toes have (they shouldn't touch the end of your shoes), along with how your heel fits into the shoe (again, it shouldn't feel as if it's jammed in). New Balance running shoes are available in various widths, so be sure to find the right pair for you, especially if you're looking for the best running shoes for new runners.
• Wear the correct type of running shoe to suit where and how you're running. A certain type of run always requires a certain type of shoe. What is perfect for a speedy sprint on a stadium track won't be nearly as effective when worn for a trail run in the wilderness. Here are a few handy suggestions:
Speed running: Try the FuelCell Rebel v3, a lightweight running shoe with high energy re-bound FuelCell foam to spring you forward to the finish.
Distance running: Try the latest New Balance FuelCell SuperComp Trainer, powered by the dynamic energy return of the Energy Arc carbon fibre plate system to drive you forward on race day.
Trail running: The New Balance Fresh Foam X Hierro v7 is an all-terrain shoe designed for serious off-roading. With a Vibram® Megagrip outsole and Fresh Foam X cushioning, it's a great trail running shoe that can handle all kinds of challenges.
Easy runs: For supreme comfort and support over longer distances, the Fresh Foam X 880 v13 delivers on performance too.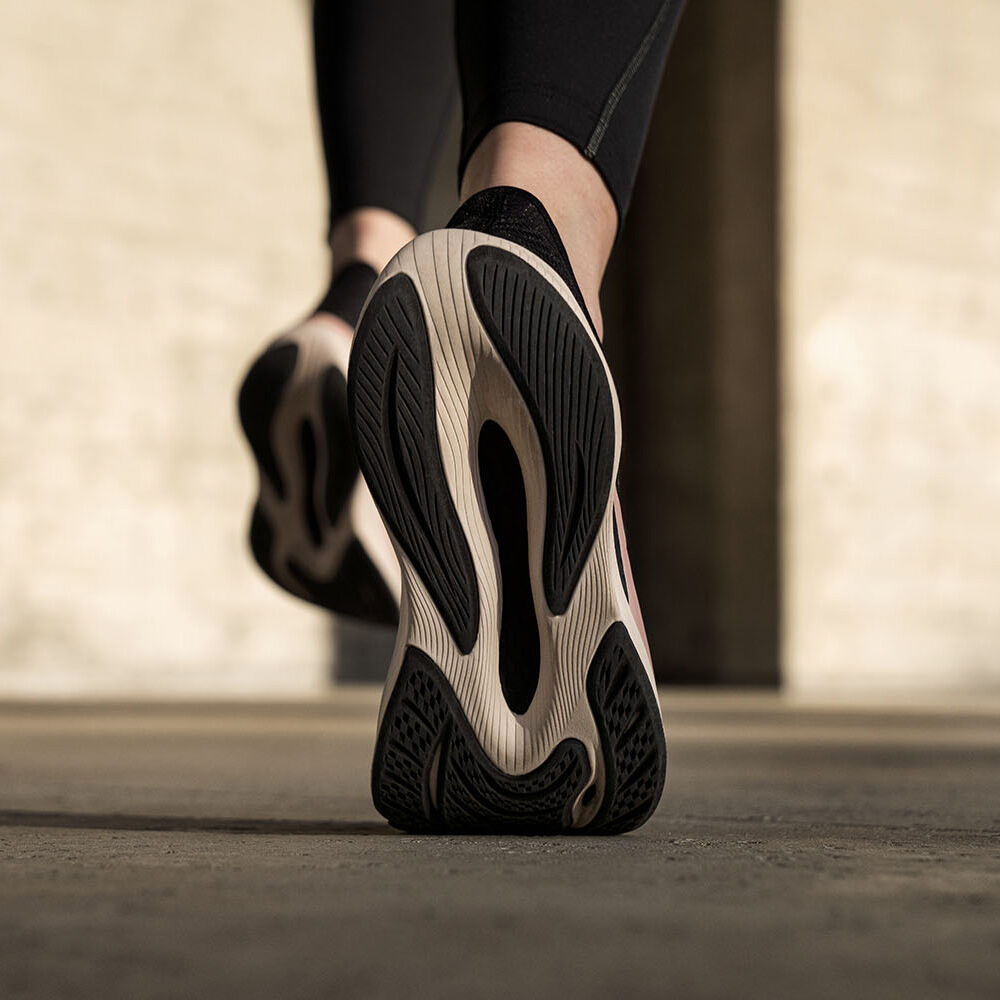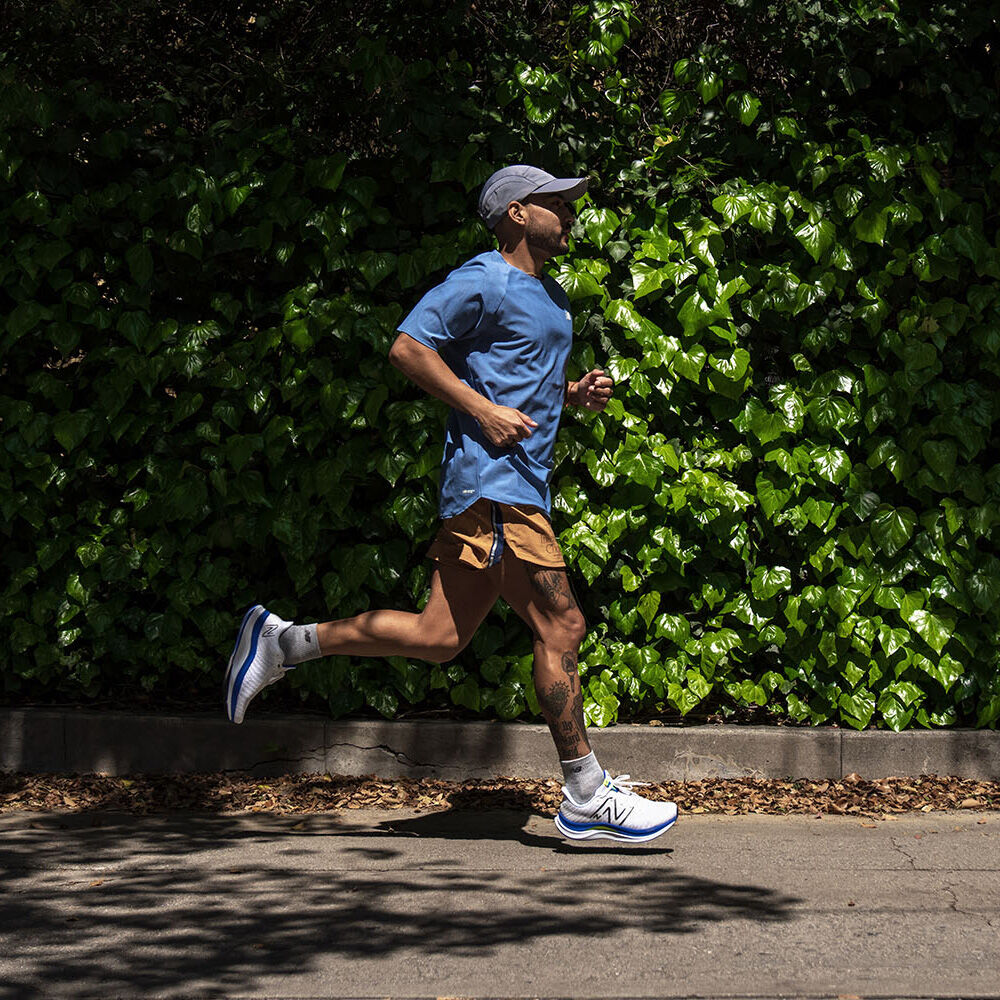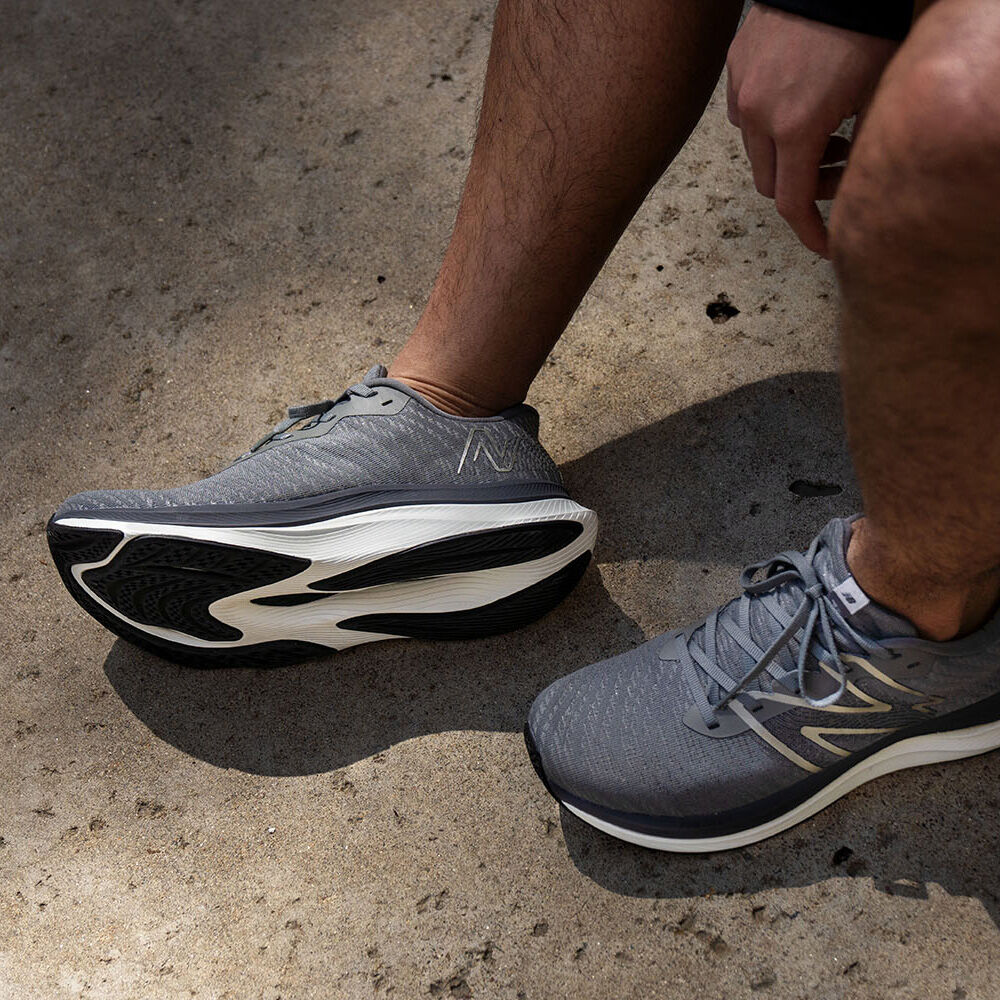 How close to the race should I wear my race shoes?
Exactly when to get new running shoes is up to you, but don't worry about the best way to break in new running shoes. Instead, consider the fact that the less you wear them before the race, the fresher they'll be on the big day. You should allow yourself a good opportunity to check them out, and to return them if they're not quite right. But to keep them in peak condition once you're certain they're the right running shoes for you, save them for the race.
For example, if you're planning on running in an event wearing a pair of New Balance SuperComp Elite v3 trainers, keeping them fresh for the big day ensures that the underfoot cushioning and carbon plate will be at their maximum level of effectiveness and responsiveness. That way you can enjoy all the gains that they have to offer when you need them most.
Rotate your running and training shoes
A sure-fire way to keep your race shoes pristine and event-ready is to buy two pairs at once and rotate them. Having a second pair of the same shoes ensures consistency between training runs and race day. The bonus is that your feet and body benefit from a pair of perfectly preserved shoes for the main event, which will respond exactly as you wish while you push them to the limit.
How long to break in running shoes before a marathon?
Races of half-marathon and full-marathon length require rigorous training and preparation, and for that you need to be happy that your running shoes are comfortable. Most training plans include a taper period of around two/two-and-a-half weeks before the big day, which is the perfect opportunity to break in your new runners. It's a great opportunity to try your running shoes before the big day to ensure they're the right ones for you and your goals. If they're not, change them for ones that are.
One thing to bear in mind is the amount of training you've already put in prior to the race itself, while considering just how long do running shoes last. If you're wondering "can I run a marathon with new shoes" then know that it's not wise to suddenly go for a dramatic change in shoe on the day of or immediately prior to the race. It's best to avoid unwanted surprises that could scupper your run. Some runners like to stick to their 'old faithfuls' and buy themselves a new pair of the same model they've been training in to ensure some continuity for your feet and body.
But don't just assume that you can skimp a run or two to assess your new shoes because you're wearing something that feels familiar. You'll need to give them a test run just like any other running shoe to ensure that the fresh version of your favourite trainers is right, so be sure to plan one or two in.
Assessing how your running shoes feel and making sure they provide the right level of comfort and responsiveness is a key part of learning how to start running at any age. It's something every runner should do with every new pair of shoes. It lessens the chance of injury - from the smallest blister to the nastiest of sprains - and means you'll get more enjoyment from your running and your running shoes in the long term. Likewise, knowing how to keep your trainers in top condition for longer can only be beneficial to your body and performance levels.
So while there's no longer any need to be breaking in new running shoes, you should still take a little time to get properly acquainted and comfortable with your trainers. You'll be glad that you did.