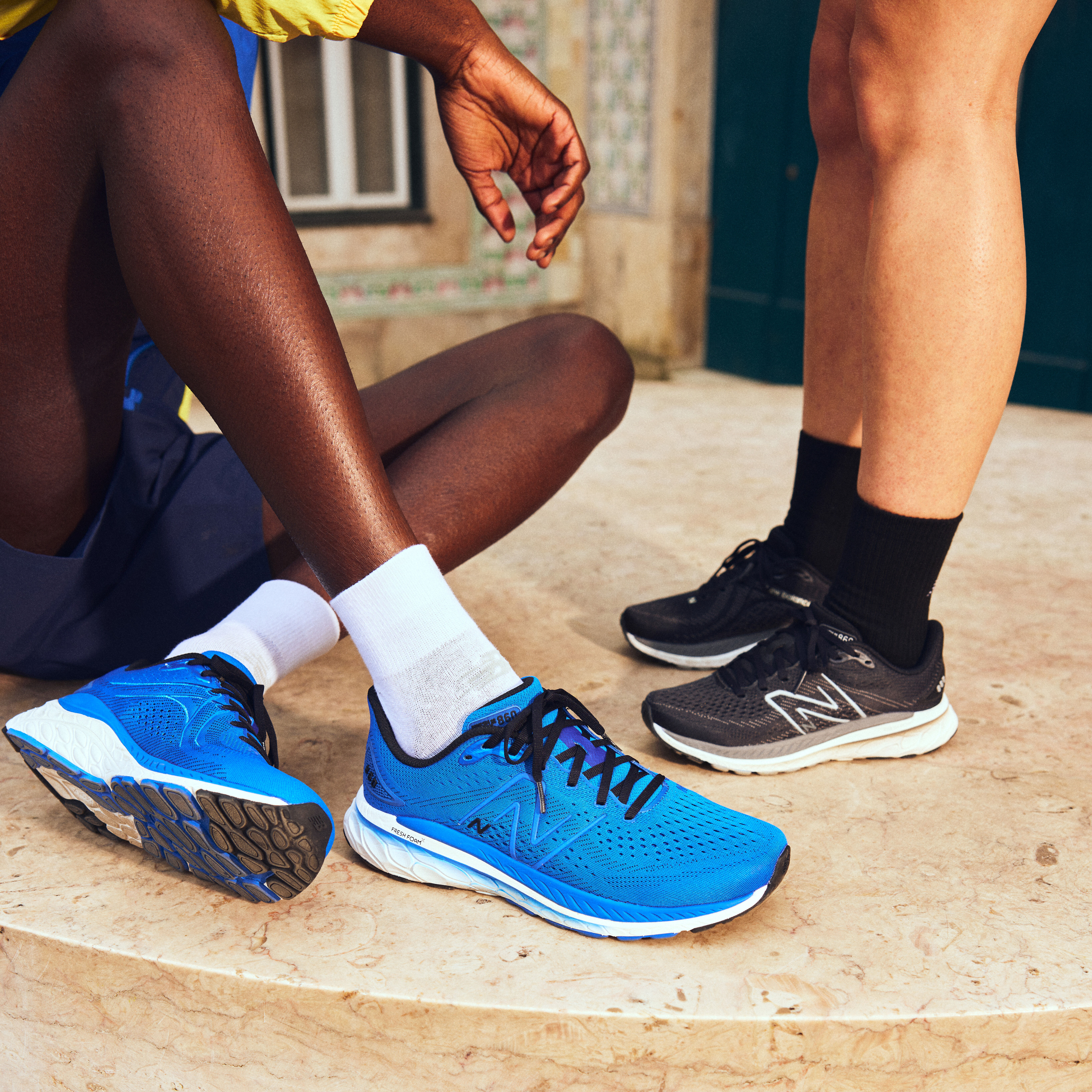 Best running shoes for flat feet
Flat feet. If you're flat footed, how will it affect you? Does it mean you should avoid running altogether? And how do you know if you're flat-footed in the first place? First of all, don't worry. It's a fairly common condition, and one that can be managed and understood. By getting a better understanding of flat feet and what you need to do, you can enjoy running just as much as anyone else, in comfort, without fear of injury and without needing to hold back as you rack up the miles.
What are flat feet?
Before choosing the right flat feet running shoes, it helps to get your head around what flat footedness is and what that means for you. Also known as 'fallen / collapsed arches', it means that you either have no arch in your feet, or they're very low. There's a multitude of reasons as to why that might be the case, including genetics, foot or ankle injuries, or medical conditions such as diabetes or arthritis. According to the London Foot and Ankle Centre, it's something that affects an estimated one in five adults in the UK.
If you're unsure, it's easy to check whether or not you have flat feet. Simply stand up and check the inside of your feet. If they're flat to the ground, you have flat feet. If the inside of your foot (the arch) is raised, then you don't. Simple as that. You can also take a simple pronation test. Overpronation symptoms are associated with flat feet, in that the ankle bones will lean in towards each other, affecting your gait.
But don't panic. The good news is that flat feet rarely cause problems, and there's not much that they will stop you from doing.
That said however, you might get occasional pain around your ankles, and you might notice your shoes wearing out faster than usual. And that's why, when it comes to running with fallen arches, a little bit of careful consideration goes a long way when it comes to choosing the right running shoes for flat feet.
Running shoes for flat feet
When it comes to considering the best running shoes for flat feet, you may think that the first and most important factor is arch support. But that's not always the case. First and foremost, it comes down to what feels comfortable. When you go into your local running store, you should always make sure you try on a number of pairs to compare anyway, as the last thing you want to do is shell out your hard-earned cash on a pair of running trainers that cause you grief later down the line.
Knowing what to look for in running trainers for flat feet is key to finding the perfect shoe. For some flat-footed runners, the key is stability and support. This gives a good amount of pronation control, and the New Balance 860 range of trainers are geared with that in mind. With revolutionary Fresh Foam running shoes as part of the family, these are beautifully cushioned shoes that benefit from 3D motion capture design to deliver comfort and stability for those who need it most.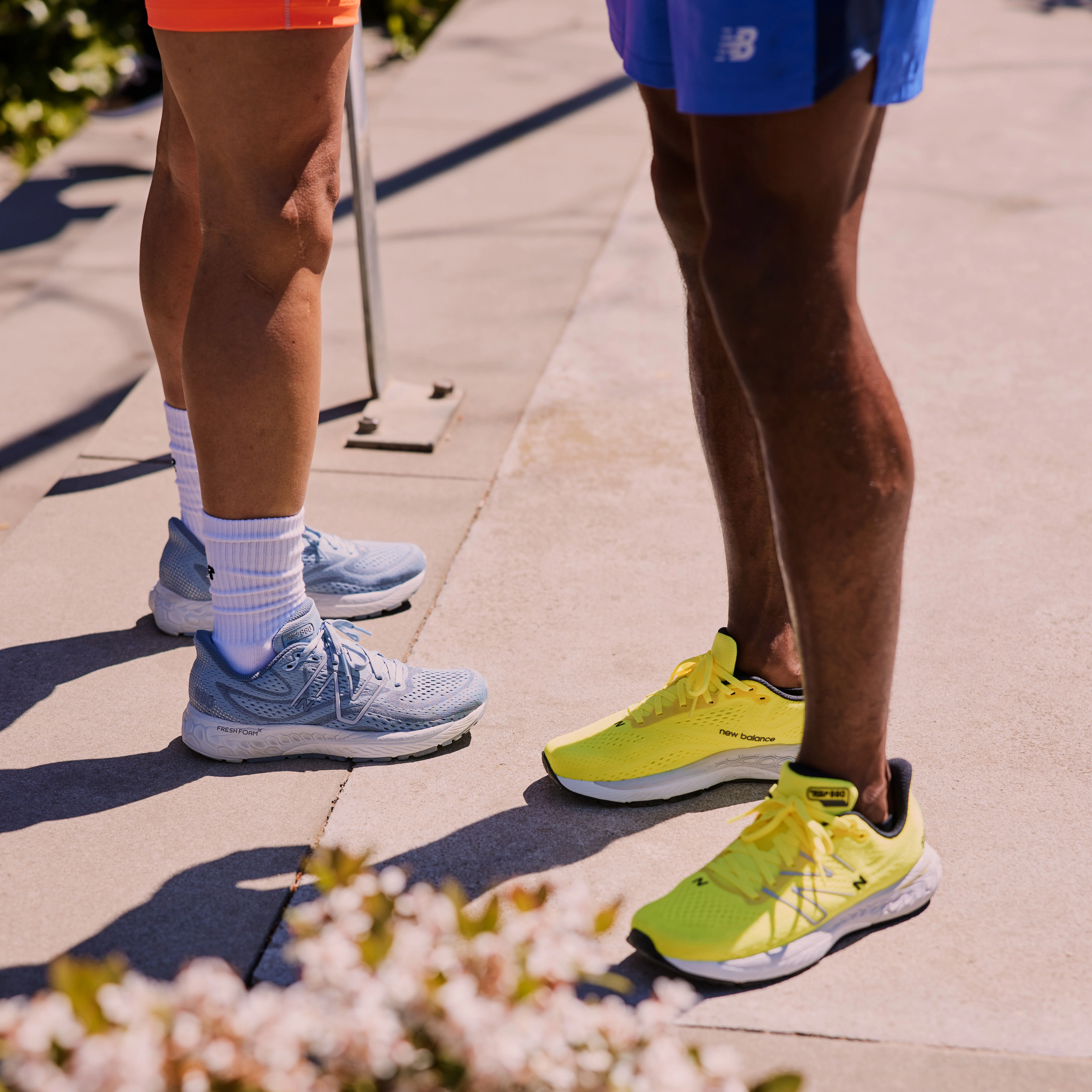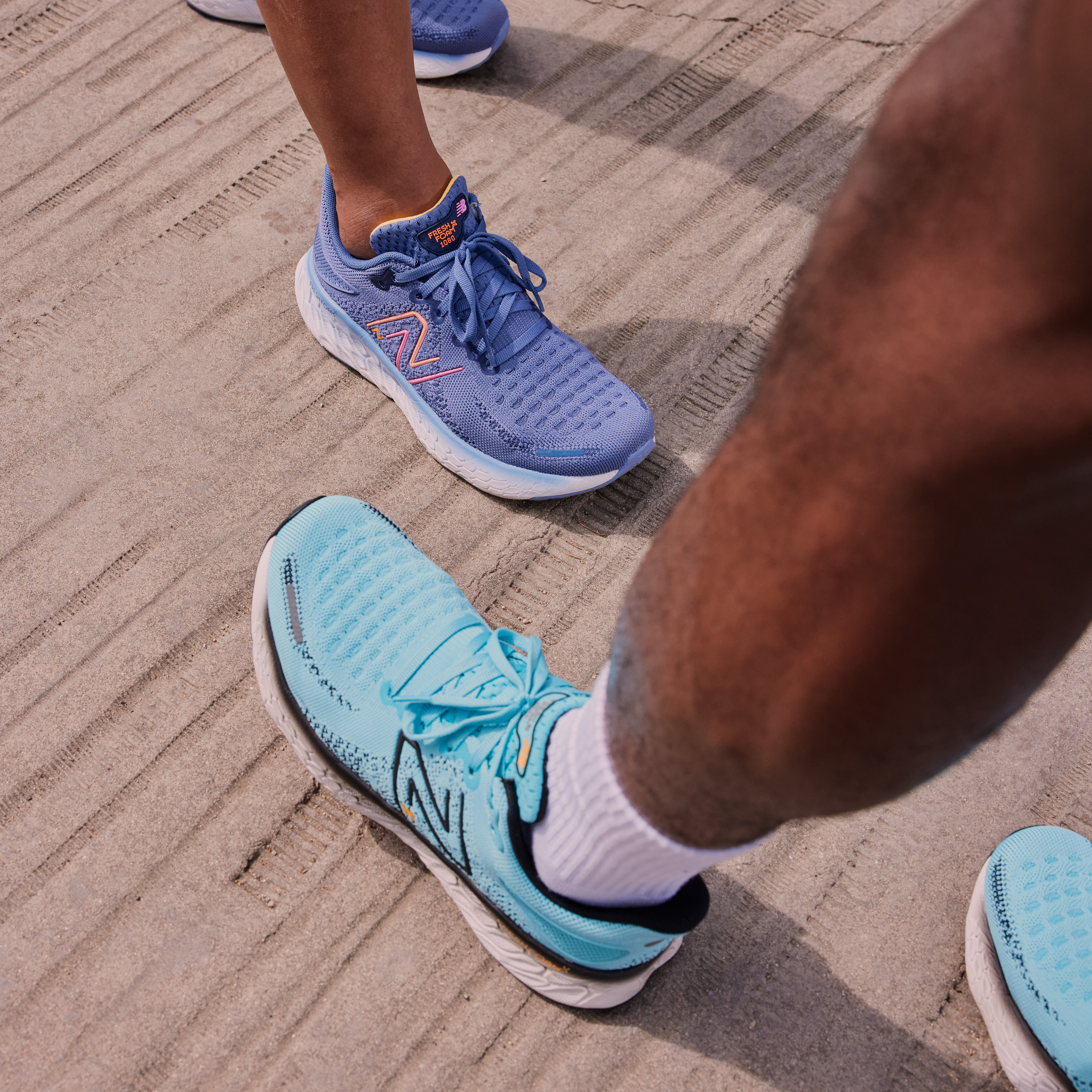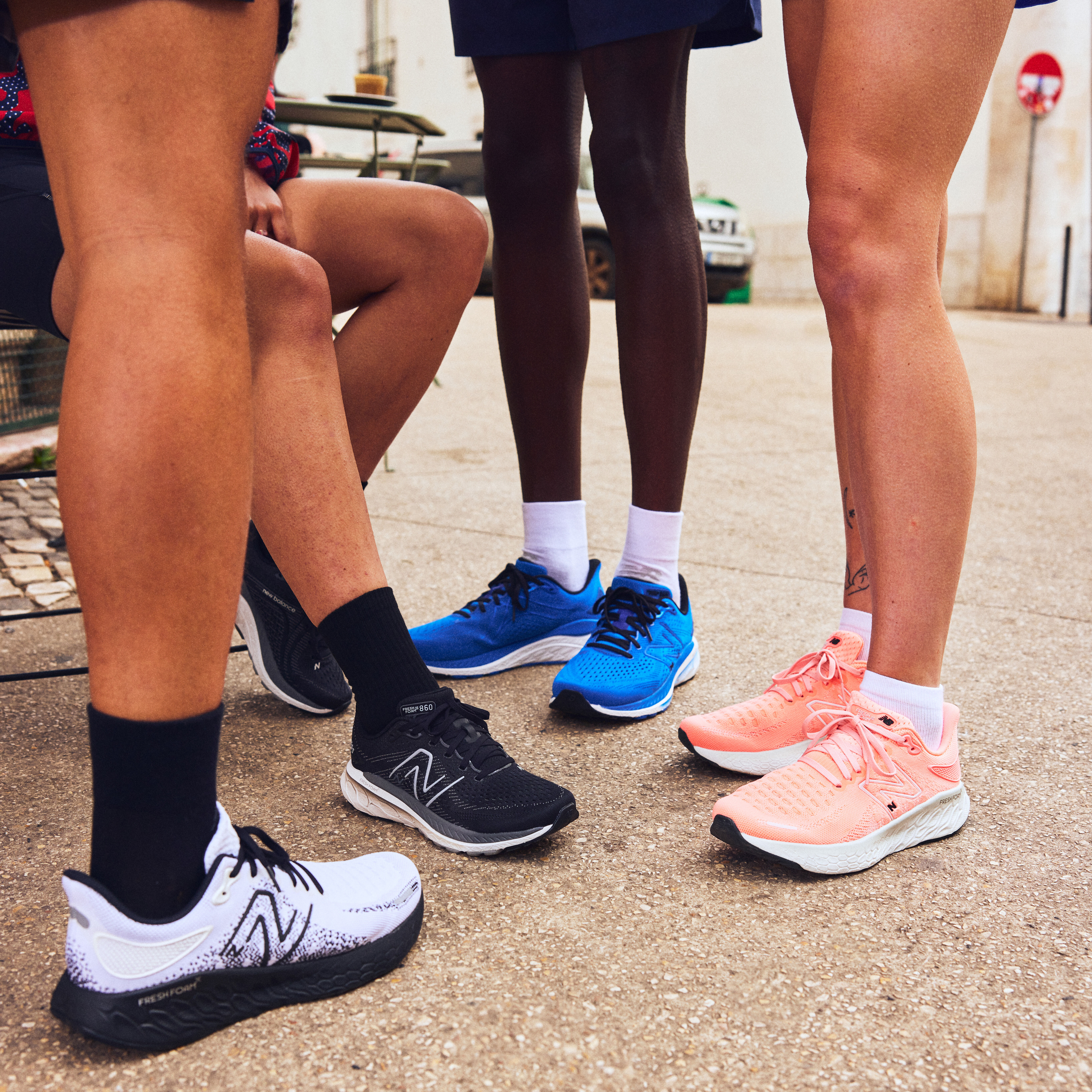 Best trainers for arch support
If you're targeting arch support as the key factor in your new kicks, then the New Balance Fresh Foam X 880v13 is a solid choice. Thanks to a dual-layer foam insole, it provides both firmness and springy cushioning to both support the arch and cushion the foot from impact. They're great for performance, ensuring a good return of energy with every stride to propel you around the track. A great pair of arch support shoes for flat feet.
Other members of the Fresh Foam clan, such as the Fresh Foam X 860v13 provide great arch support thanks to a supportive medial post (a firm device in the midsole to deliver extra stability) in harmony with the superior cushioning. Take a look at our range of women's flat feet shoes and men's running shoes to find the best in arch support running shoes.
How to choose running shoes for flat feet
If you have the opportunity to undergo gait analysis to find the right flat feet trainers, go for it. It's a hugely helpful way to study how your feet land when you run, and if you're unfamiliar with the process, it essentially involves running on a treadmill in a variety of shoes. A camera will record how your feet place on the treadmill belt as it whizzes round and give you the opportunity to see for yourself which pair of running shoes are delivering optimal support. Pair that knowledge with your own observations of which feel more comfortable, and bingo – you have your pumps picked.

Are running shoes good for flat feet?
Running shoes with good arch support can make living with flat feet more comfortable. A pair of runners designed to deal with overpronation (the inward turning of the feet) are bolstered to provide extra stability. That alone can make walking, standing, doing chores and so much more a good deal more comfortable, so if you're looking for the perfect flat foot shoes, a pair of running trainers is a great choice. The men's New Balance Fresh Foam X Vongo v5, aside from the fact that they look super-sleek, are just the ticket thanks to a tough medial post in the midsole to steady things up, and supreme cushioning for ultimate comfort.
However, if you're a runner too, we wouldn't recommend using your favourite running shoes in everyday situations, as they'll wear down much faster. Different uses require different movement, and by utilising your best running shoes for other tasks you'll wear them down in a different way. That could cause instability when running, and you'll be back where you started. So a good rule of thumb should be one pair for day wear, and one pair for running – and never cross the two!
How to lace running shoes for flat feet
It might sound like we're teaching you to suck eggs here (seriously, who does that?!) but a quick lesson in how to tie your laces can make a huge difference to your comfort levels when it comes to running with flat feet. Seriously.
By changing how you lace your running shoes, you alter the tension points to give your foot a more snug, secure, and comfortable feel. Here's how:
• First, put each end of your shoelaces through the bottom eyelets at each side, going from the top to the inside.
• Now diagonally criss-cross your laces over one another, crossing over opposite sides and working your way up your shoe towards your ankles.
• At the second eyelet to the top, don't cross your laces. Instead, take each lace to the eyelet above and go through the top and into the shoe.
• Now cross your laces over from one side to the other and weave them through the loops you just made from the second and first eyelets.
• Now tie your shoes in the usual manner, and hey presto! Super-supportive lacing for flat feet.
So, there we have it. Being flat-footed needn't leave you feeling flat, in fact there's nothing to stop you pulling on your running shoes to get out there and get that exercise high.
Provided you laced your shoes properly first, of course.