How to tie laces on trainers
If you thought that learning how to lace your shoes was a job you finished in the first few years of school, think again. How you thread those eyelets can make a big difference to how your shoes fit and feel, and how they look.
Trainer laces styles
Whether you're a discerning sneakerhead, or just someone looking to breathe new life into an old pair of kicks, consider the various cool ways to lace shoes and what might suit your preferred look.
You may want to check out our selection of New Balance men's and women's shoes to see how we've chosen to lace our trainers but there's plenty of scope to do your own thing. Here are a few tried and tested trainer lace styles to try out:
Straight lacing: Otherwise known as 'fashion lacing', this loose style is a cool, casual shoe lacing technique that looks good on most trainers. Begin with an equal length of lace on either side of the bottom eyelets then thread the lefthand length straight up to the second eyelet, then horizontally across. The right lace then goes straight up to the third eyelet and, as before, horizontally across. You then repeat these two steps, alternating between the right and left length until you've laced all the eyelets.
Criss cross lacing: Probably the most common and straightforward style of shoe lacing. Begin by lacing straight across underneath the two bottom eyelets then cross the ends, feeding under the sides and out through the next set of eyelets up. Repeat this criss-cross pattern all the way up to the top two eyelets.
Ladder lacing: A distinctive style that combines horizontal lacing across the top of the shoe with vertical lacing between eyelets. It's quite intricate but it produces a tight, secure fit. Begin with an equal length of lace on either side of the bottom eyelet then run each side vertically up the outside of the shoe to the second eyelet. Then run each side horizontally across to the opposite eyelet, under the vertical lace sections on the opposite side and vertically straight up into the next eyelet. Repeat until you've completed the lacing.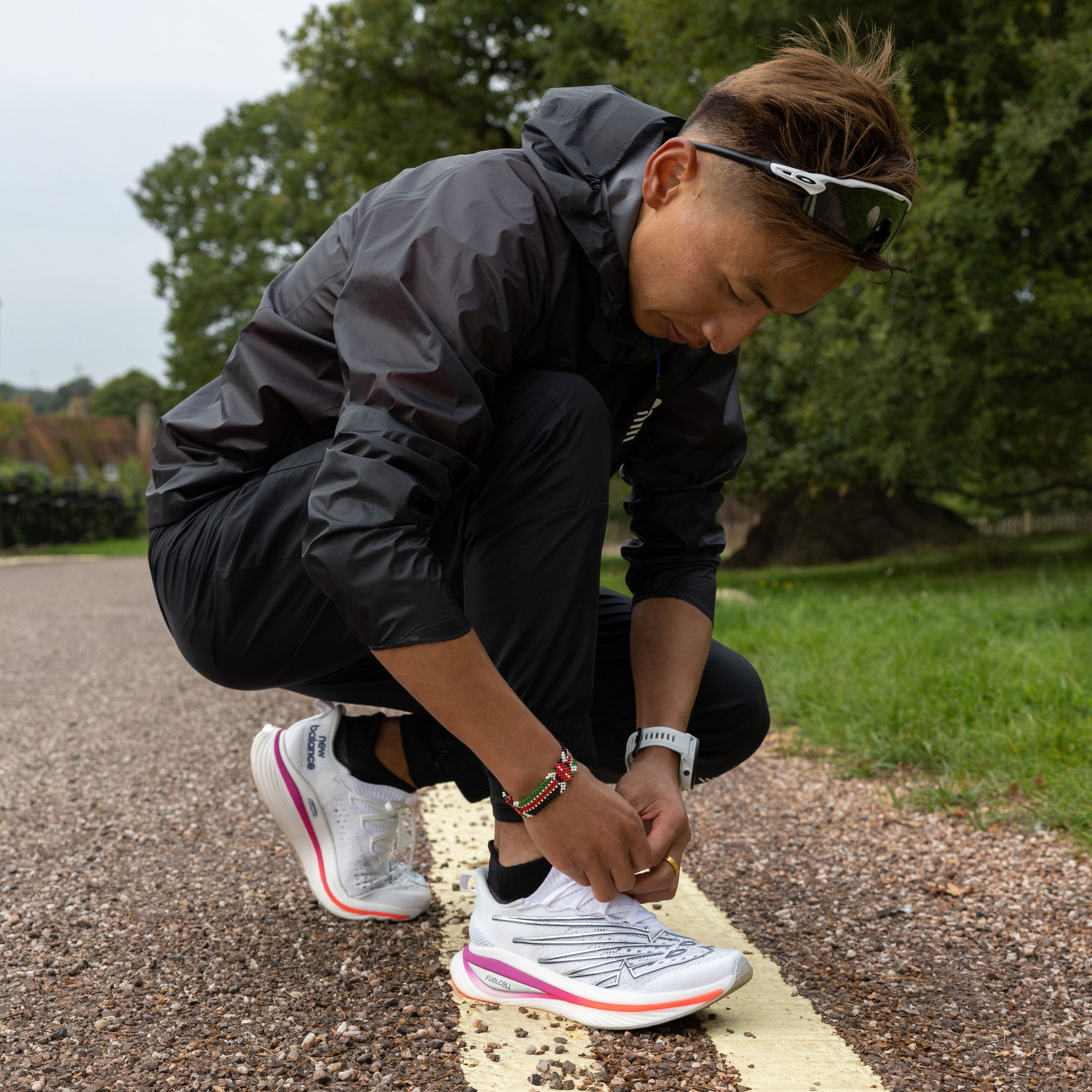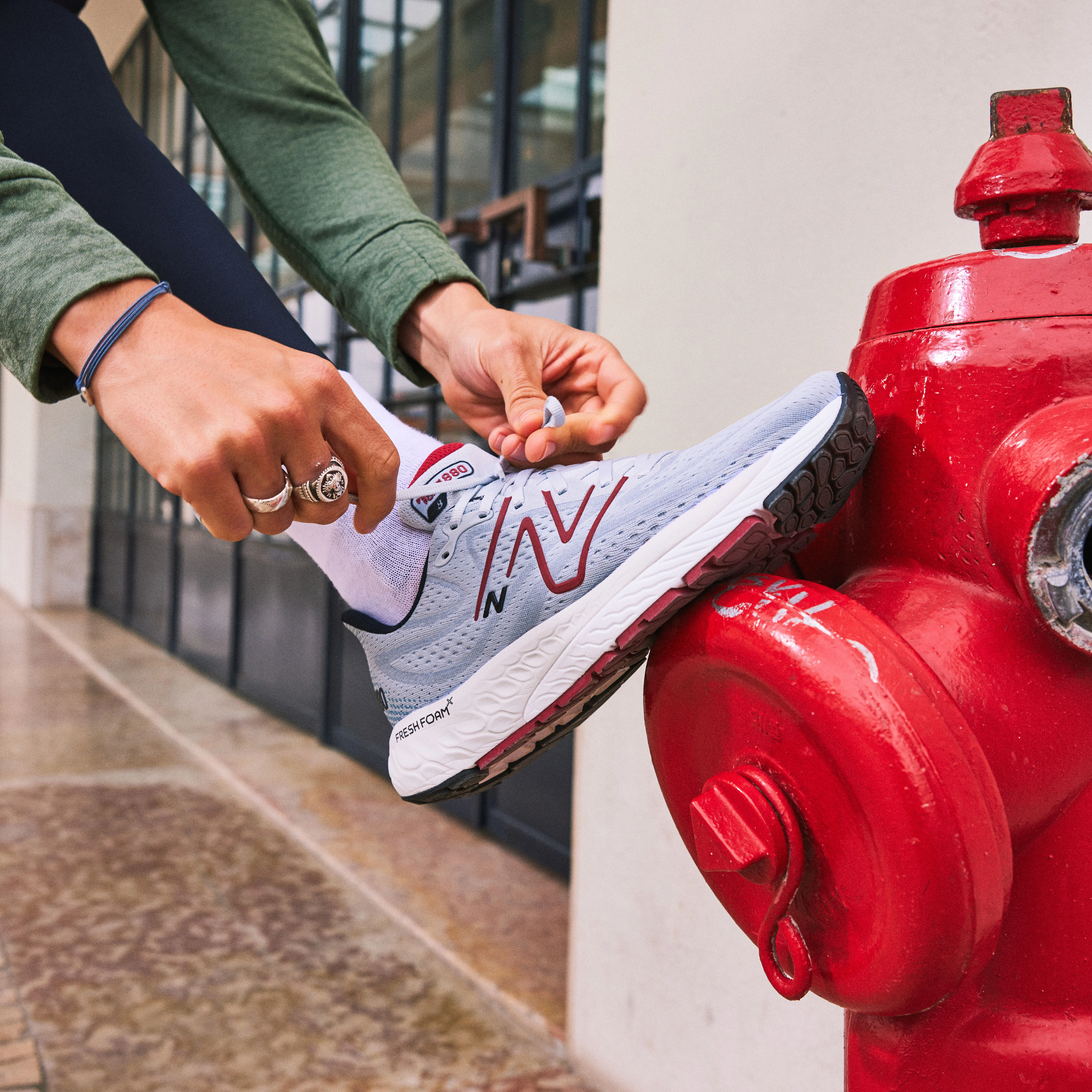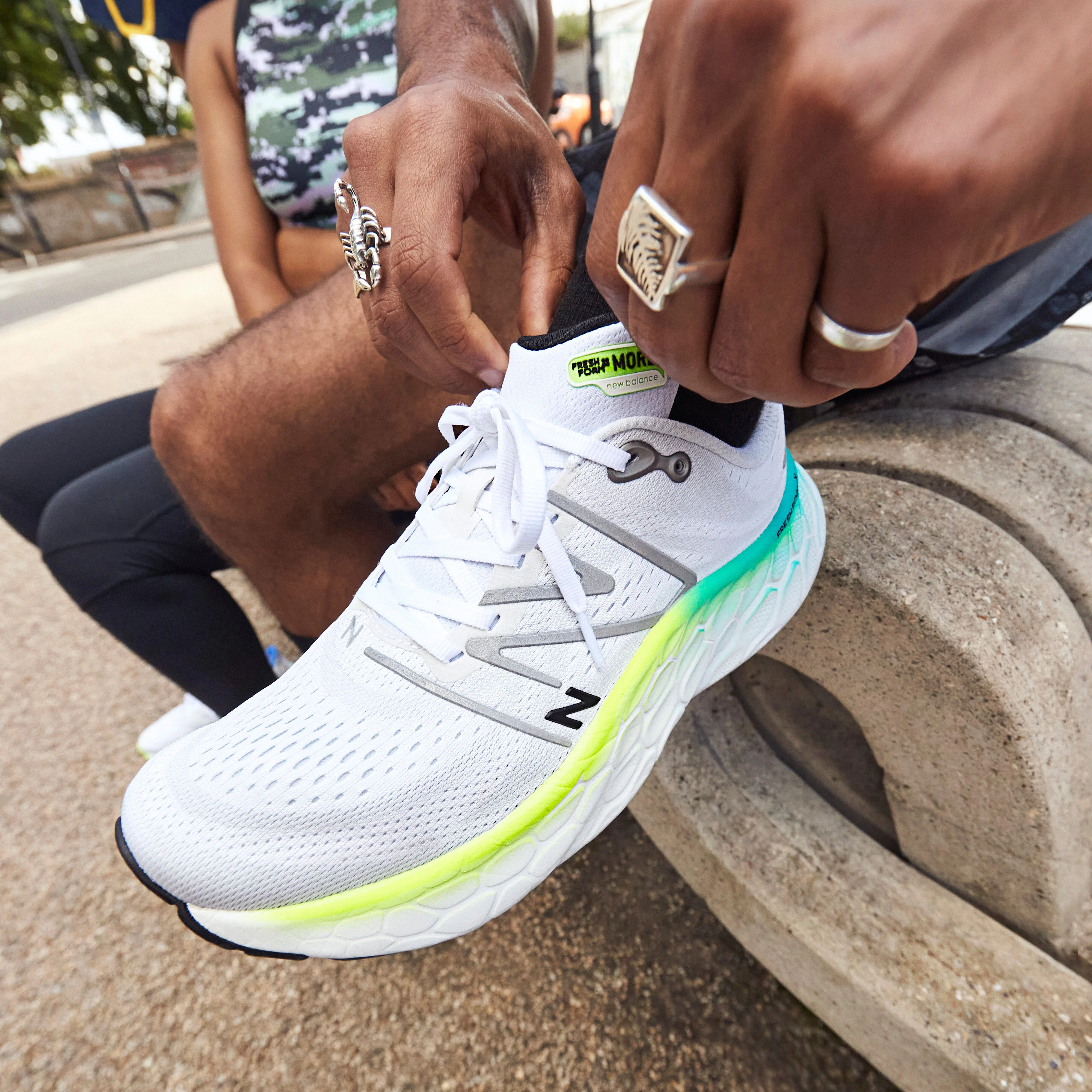 How to lace running shoes
Shoe lacing techniques aren't just about style. If you want to make the most of your New Balance running shoes you might find that the way you lace them makes a noticeable difference to their feel and fit. You can even use different styles of shoe lacing to address specific issues.
For instance, if you find that your running shoes feel too tight, try using the straight lacing technique described above – it should release a bit of pressure.
If you're finding that the fit around your heel is too loose – which can lead to heel slippage and blisters – try using the criss-cross lacing technique detailed above until you reach the second top eyelet. Then thread both sides of the lace vertically up into the top eyelets so they emerge underneath. Finally, cross the laces and insert them through the loops that you've created, then pull tightly, securing the shoe around your foot, before tying as normal. This is called a 'heel lock' lacing style and can be a nifty way to prevent slippage in an otherwise ill-fitting pair of running shoes.
Shoe lace length chart
Wondering what length of lace you need? Simply count the eyelets on your shoe or trainer and let this handy chart be your guide:
• 4 eyelet pairs = 27 inches
• 5 eyelet pairs = 36 inches
• 6 eyelet pairs = 40 inches
• 7 eyelet pairs = 45 inches
• 8 eyelet pairs = 54 inches
• 9 eyelet pairs = 60 inches
• 10 eyelet pairs = 63 inches
How to lace New Balance shoes
It might initially seem like a niche consideration but exploring shoe lace styles can help you to customise your look, achieve a better fit, and maybe even enhance your performance.
As for our classic styles, lacing is a personal matter so we'll leave it to you to decide how to lace the New Balance 577, 550, or 991.