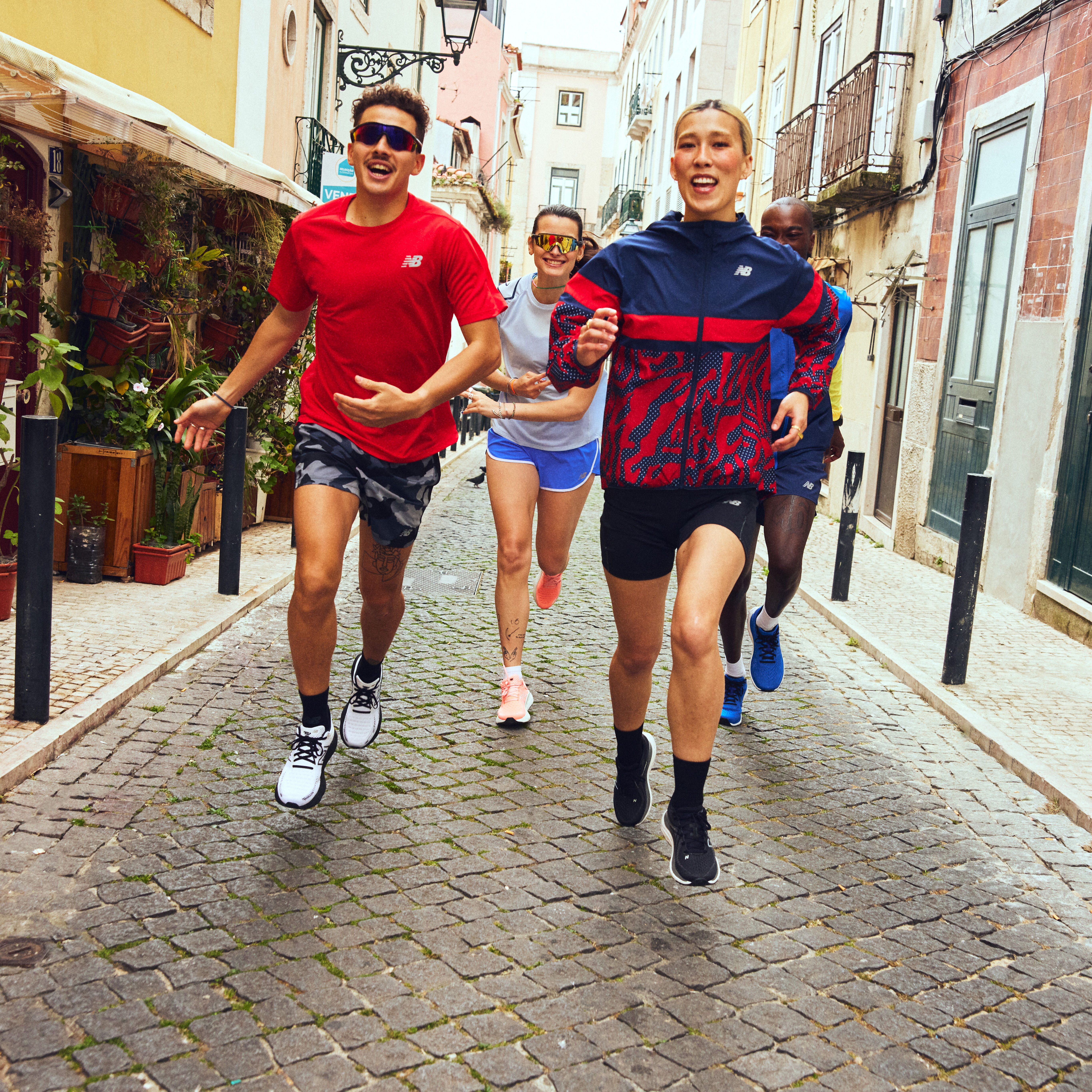 What to wear when running
Getting the shoes right is only half of the battle when it comes to running. Deciding what running clothing to wear across the rest of your body can be a real head-scratcher, especially if the weather changes the minute you open the front door. That's why we've put together our handy guide to what to wear when running, making it easy for you to get in the right running gear and go, no matter what Mother Nature decides to throw at you. If the summer heat is ramping up, if it's throwing it down, or if it's chilly season outside: from beanies to caps, shorts to leggings, sleeves to sleeveless – don't worry, we've got you covered.
Running gear for men
Okay, let's start with the basics. We know you have the running shoes sorted already (and if you haven't, you might not be too shocked to know we can help there too...), but where to go from there?
• Torso: Here's your first conundrum: are you a t-shirt or vest guy? This can partially depend on the weather, but it's also about what makes you feel comfortable and focused as you run. On warmer, drier days, the Q Speed Jacquard short sleeve tee is great for performance, utilising NB ICEx fast-drying technology to help keep you cool, and fabric designed to promote airflow.
But for ultimate airflow, vest is best. The Accelerate Singlet is all about premium function and style and is powered by NB DRYx technology to wick moisture away from your body as you work out. It's a great piece of running gear for men.
• Legs: Again, this about preference, style and seasonal conditions. If you're looking to rock the running shorts, you can go short-short with the Accelerate 3 inch Split Short, which are still long enough to feature drop-in waist pockets and hand pockets to store your keys or phone. Or if you need a little more length, the Accelerate, Impact Run and Q Speed Fuel shorts come in 5 and 7 inch modes too. And for those who prefer a bit more support for their wedding tackle, the Q Speed 5 Inch 2 in 1 Short has got the lot.
• Feet: Socks come in all shapes and sizes to suit your running style. For added comfort though, the Essentials Cushioned Crew Socks are hard to beat. Featuring built-in cushioning along with reinforced heels and toes, they go the distance to ensure you do too.
Running gear for women
Whatever your physique or running experience, there's some essential running gear for women that no female athlete should be without. The more running wear you have in your arsenal, the better chance you have of getting out and putting the miles in whatever the weather.
• Sports Bras: Depending on the level of support you need, sports bras range from low, medium and high impact. Low-impact sports bras such as the Shape Shield Printed Crop Bra provide minimal and more gentle support and are perfect for smaller chested runners. They're also great for lower-intensity exercise such as yoga or pilates. Medium-impact sports bras such as the NB Pace Bra 3.0 with stabilised front straps to reduce vertical movement and a wider under band, provide a moderate level of support and coverage. High-impact sports bras are designed for those with a larger bust size in mind, and deliver elevated compressive support for a locked-in fit and feel. The NB Power X Bra has all this and more, with breathable cup construction to ensure you stay cool as you run.
• Torso: Modern sports bra design means they can be worn on their own as part of your running outfit if you should want to, but if you need more coverage then a tee or vest can easily slip over and on top. The NB Athletics Icono-Graphic T-Shirt is a classic design in super-soft cotton jersey fabric for extra comfort, while the relaxed fit of the Impact Run Luminous Tank top gives you room to move and extra stylish versatility.
• Legs: A few decent pairs of running shorts and leggings should be a go-to staple of any ladies running wear wardrobe, but for an added touch of eye-catching style the surf-inspired collaborative STAUD Run Shorts are great for sunnier runs. Fitted shorts, such as the Q Speed Shape Shield 4 Inch Fitted Short are more streamlined and feel snug at the hip and thigh while enabling a full range of motion.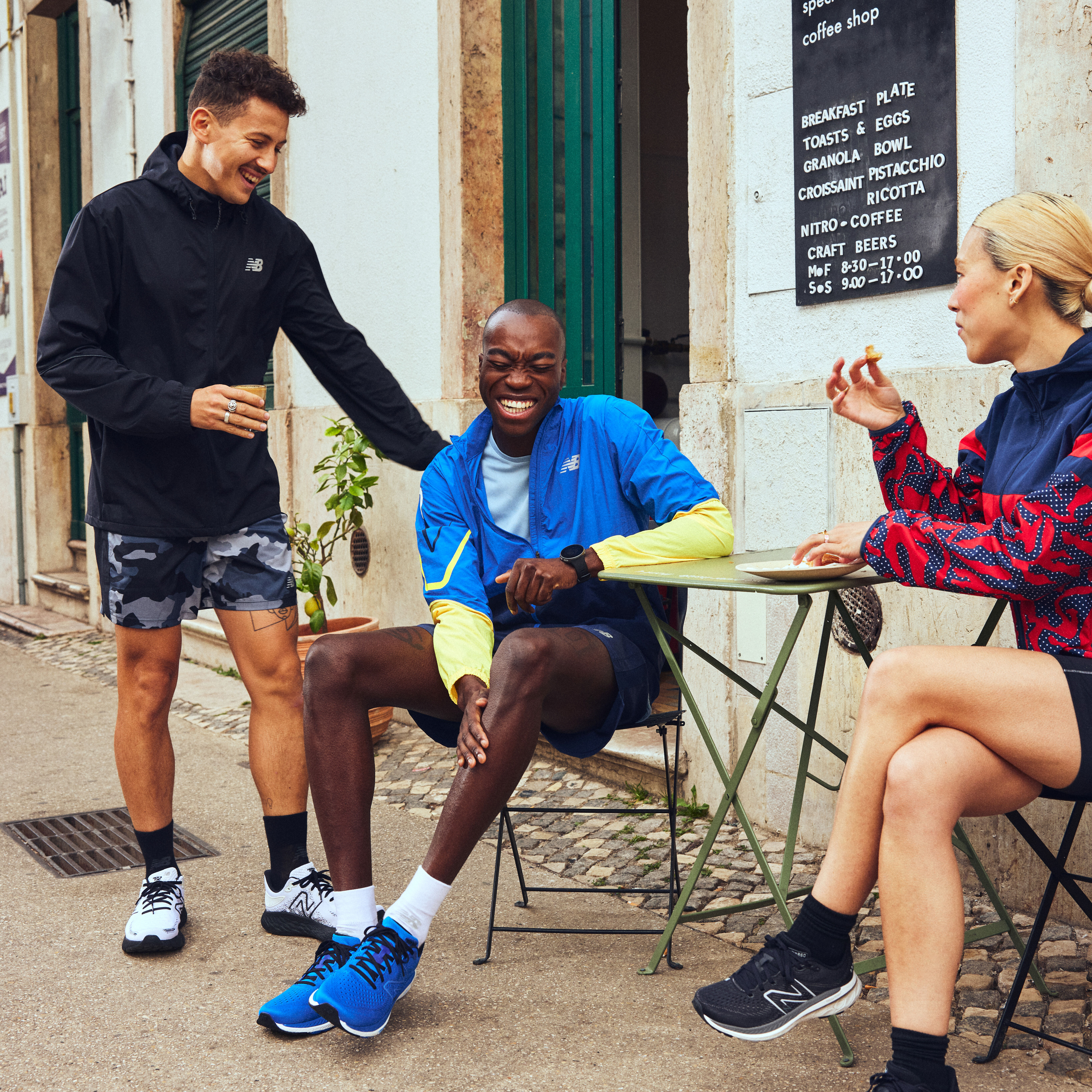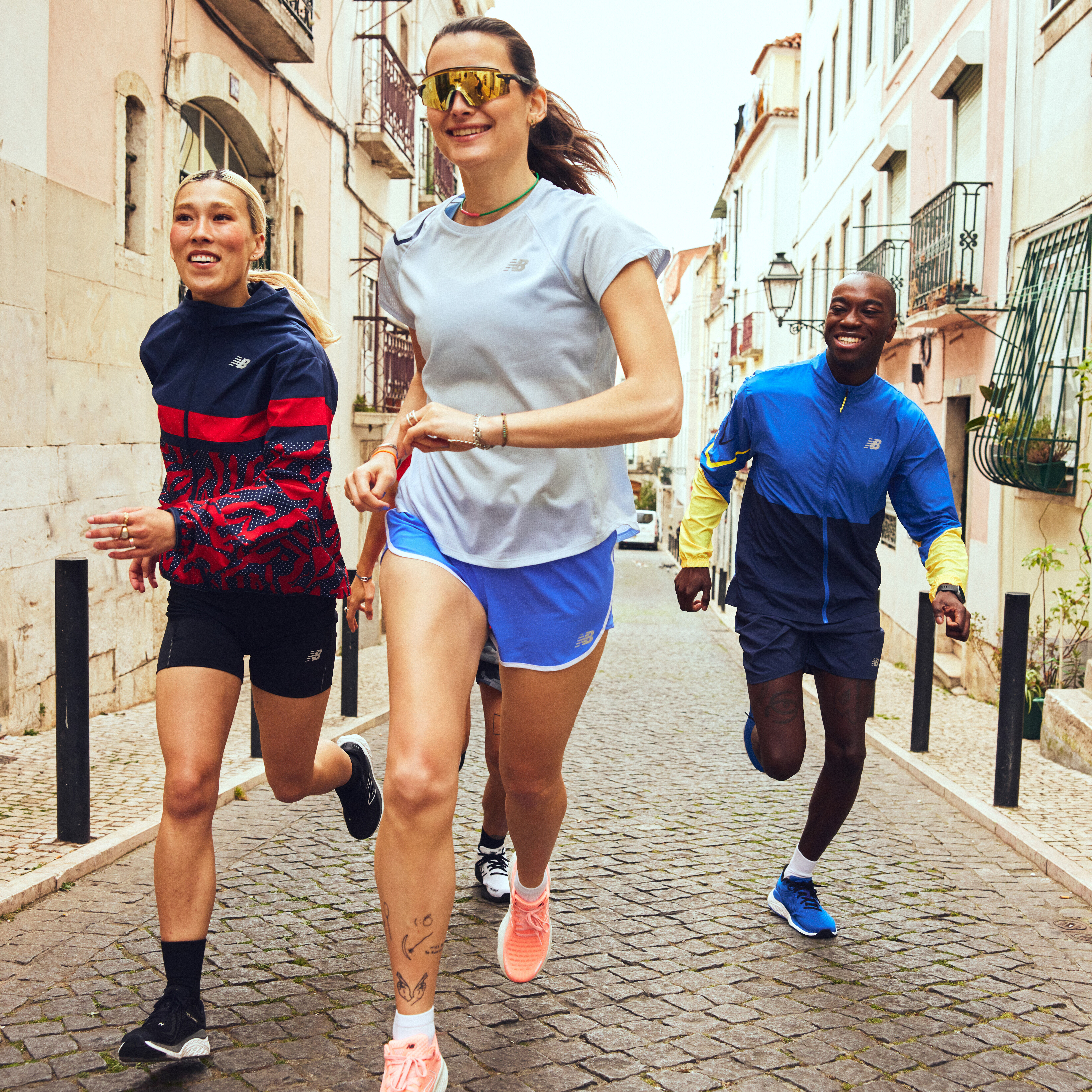 What to wear running in winter or cold weather
The basics of a tee, shorts, socks and trainers will always be a great summer running gear combo, but when colder weather kicks in, you need to kit up with winter running gear. Accessorising as temperatures drop is the way to go, but it's wise to not wrap up too heavily otherwise you risk overheating and limiting your performance.
Start off with adding a decent but thin pair of gloves, as you'll often notice that your fingers are the first part of your body to feel the chill as the summer fades and the heat starts to go from the atmosphere. Then, as winter draws nearer and winds pick up, progress to a long-sleeved shirt like the Q Speed Jacquard Long Sleeve and cover your legs with a pair of running trousers or running tights.
From then onwards, when planning what to wear running it's about layering up and covering the extremities as the cold bites. A good running hat to keep your head and your tabs warm is advisable, and a lightweight wind-resistant jacket like the Accelerate Jacket will help to keep the elements out.
What to wear running in the rain
A lot of runners will tell you that they love the experience of running in the rain and yes, it can be fun - provided you gear up correctly first. Plan ahead; you should always check the forecast and if your distance goals mean you'll be out for longer, chances are you're only going to get soggier.
But that's no reason to stay indoors on the treadmill. Keep one or two lightweight and waterproof running jackets handy, like the women's Impact Run AT Waterproof Jacket with sealed seams to keep the rain at bay, along with zippered pockets to keep your keys and phone dry. If it's a summer rain run however, you might like to run in just a tee, but just make sure it's not cotton-based, as the fibres will soak up the downpour and get heavy quickly. A wide-brimmed running hat or cap will help to keep the rain out of your face, too.
Night running gear
For the more expressive runners amongst us, being seen is what it's all about. But all night-time runners should aim to stand out and wear reflective running gear to be seen clearly and stay safe. The Reflective NB Heat Grid Jacket features a reflective finish to catch the light of road vehicles when running in the dark, as does the Reflective Accelerate Jacket, both of which give you the ability to shine without having to go full neon. Certain running tights use the same reflective design, such as the Reflective Impact Run Heat Tight for women.
And it's not just about being seen. Seeing where you're going at night is just as important, and when you're not under the glare of streetlights, a head-worn light is a great addition.
So, whether the weather is good, bad or just plain indifferent, there's always a way to get out in it and run. All you need is some essential running gear like we've mentioned above, and a bit of get up and go.