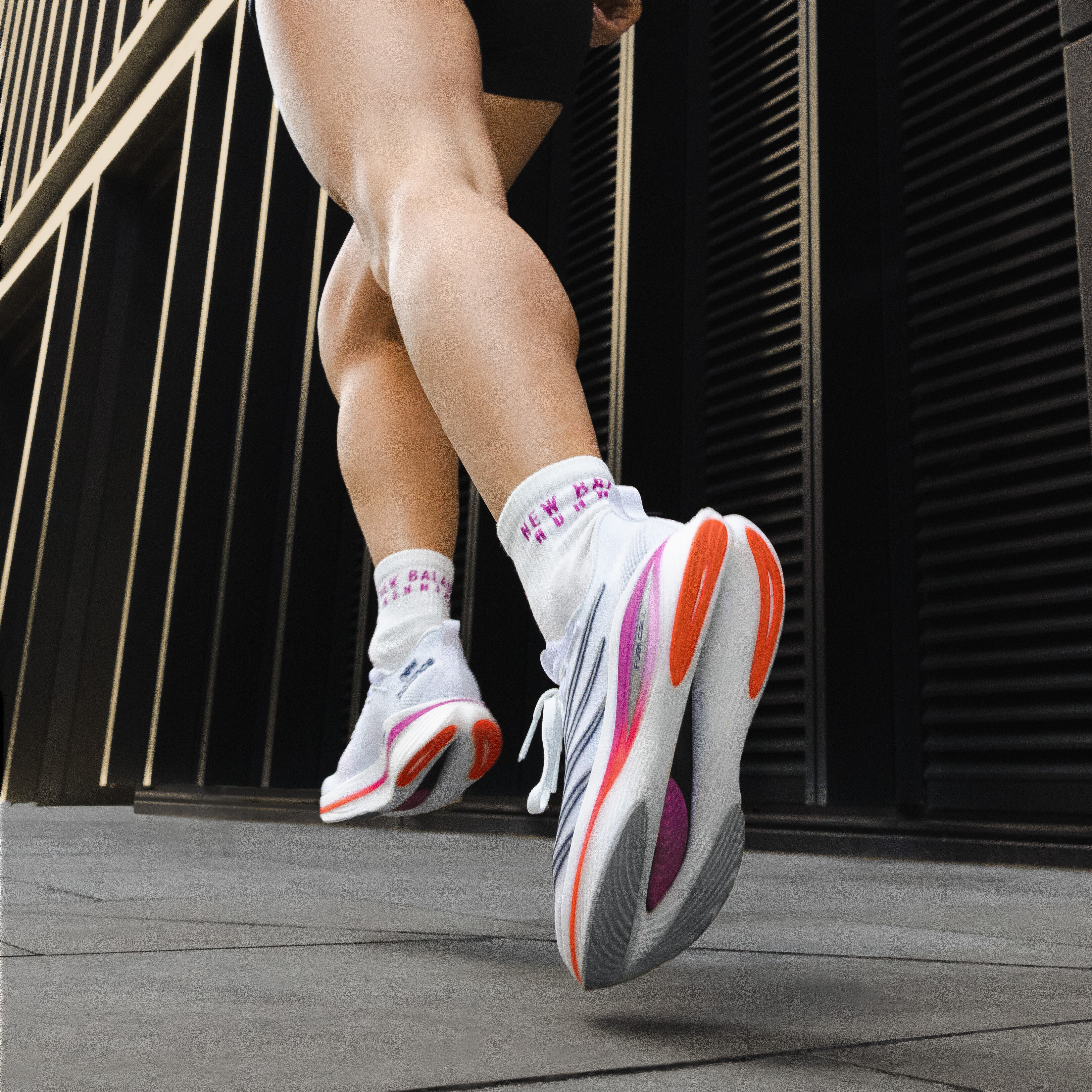 Why choose lightweight running shoes?
Effortless running. It's a goal, right? A lighter shoe that reduces the amount of hard work you have to put in as you run. It sounds simple enough, but there's always the worry that if your shoes are being made lighter and carrying less weight, then surely something important must have been taken out somewhere along the line. Less cushioning? Less versatility? Less support? Worry not. The latest lightweight running shoes for men and women runners are born of modern technology that takes all these factors into consideration, and more. Nothing is sacrificed, and both your body and your running performance feel the benefits. Faster. Further. Longer. There's nothing 'lightweight' about the performance power of the lightest running shoes. Let's lift the lid and experience the lighter way to run.
The science behind lightweight running shoes
The benefits of lighter running shoes can be felt the very moment you take them out of the box. Aside from simply looking great, they feel buoyant and airy in your hand. You almost wonder what's missing, but the modern lightweight running shoe is the culmination of years and years of applied testing, research and development. Technological and chemical leaps in the compounds used to create materials used mean lighter soles, along with thinner but durable fibres to shave weight from the uppers.
Today's lightest running shoes reduce the amount of weight tied to your foot to deliver improved running performance. They've come a long way since the impractical and jarring running flats of yesteryear to deliver a running experience that is more injury-free and provides better propulsion. With less weight to carry you can lift your feet faster and with more efficiency. The result of that is less fatigue and more energy, improved biomechanics, better all-round running form and an increase in speed.
With less ounces to carry around as you pound the streets, the benefits of reduced strain and fatigue on your feet and legs mean you can run longer and further. Music to your ears if you're training for a long distance run.
Likewise, lighter running shoes are a gift to speed training too. With improved midsole foam technology, every time your foot hits the ground you're rewarded with a powerful return of energy to spring you forward. With modern lightweight trainers, it's easier to float around the track faster.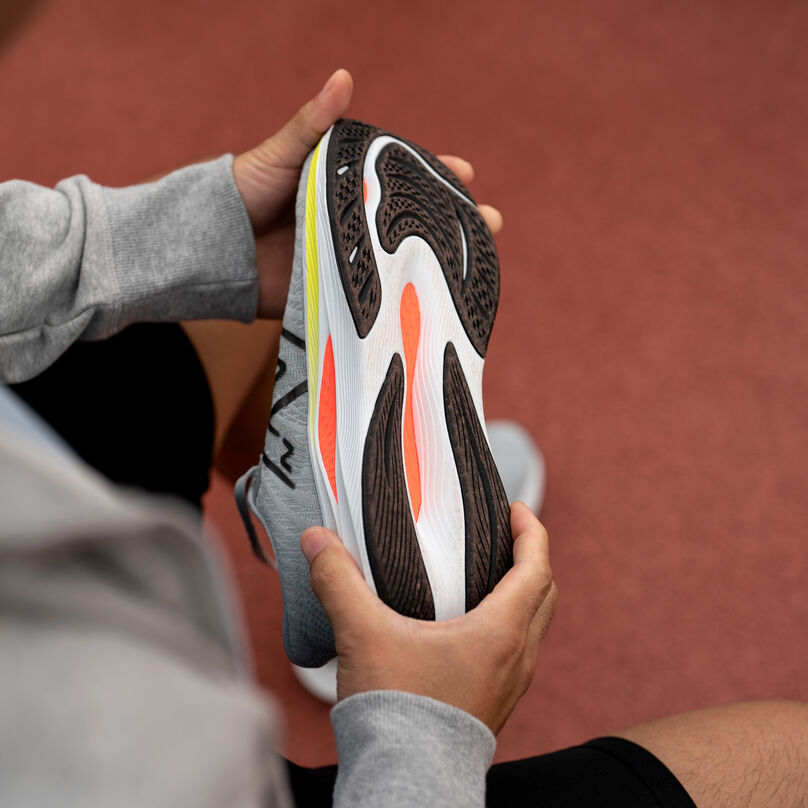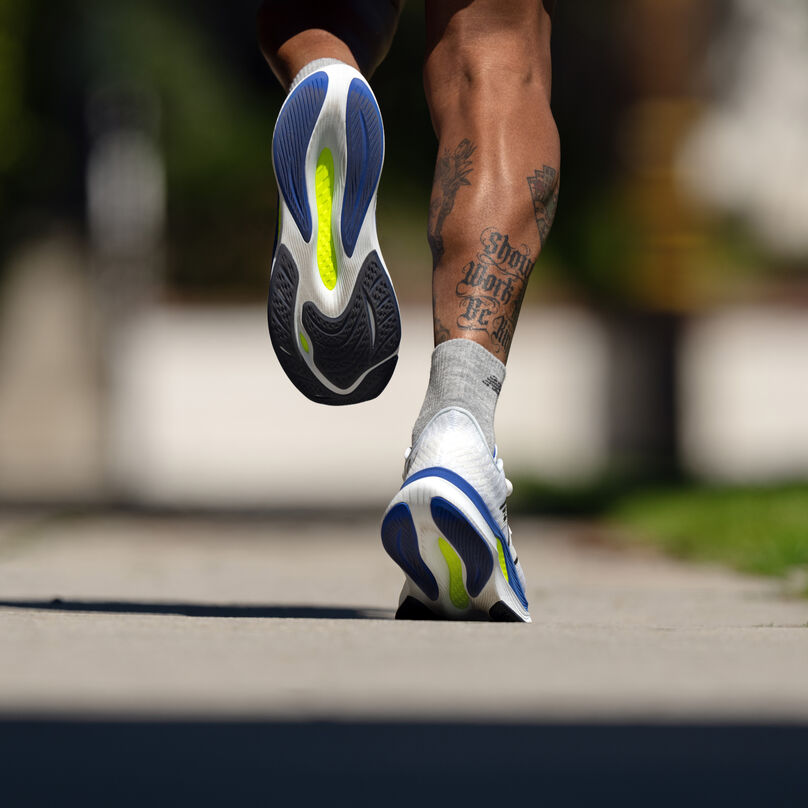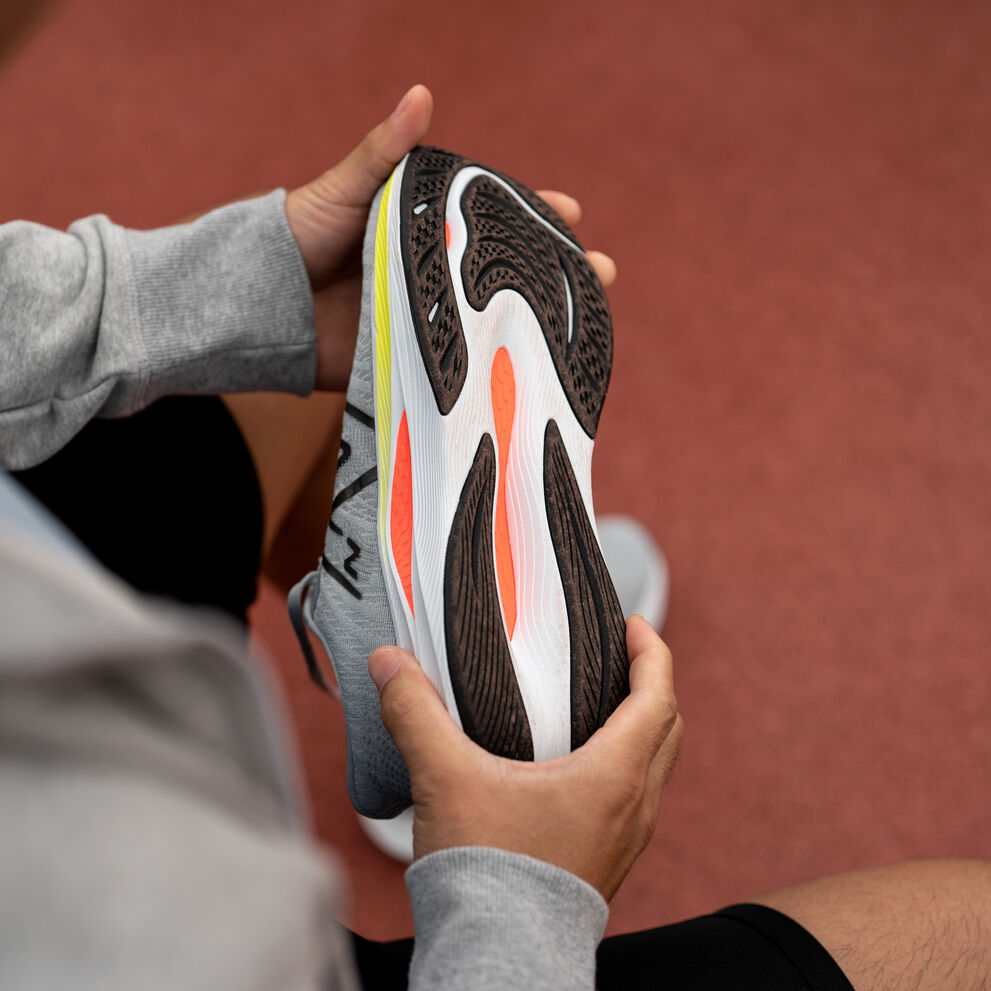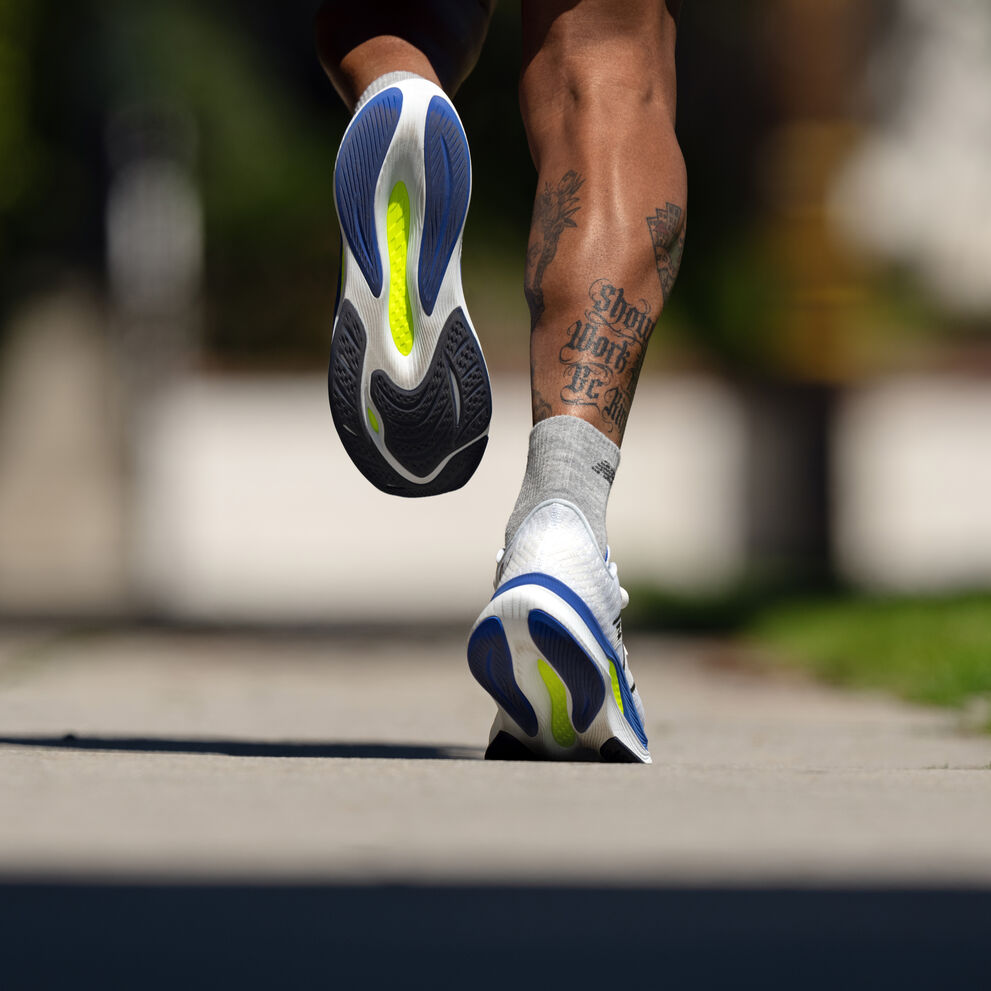 What to look for in lightweight running shoes
As with running shoes of any weight, a key factor to consider is cushioning. Lightweight running shoes are no different in that regard; while it's vital that a lightweight running shoe gets you round your running course faster, they have to protect your feet from injury and reduce the amount of impact carried through and distributed to your feet, legs and joints.
Also don't forget whose feet you're buying for: yours. Lightweight running shoes, womens and mens, are designed in the knowledge that every runner has differing needs, so consider carefully the type of feet you have and your own gait before you buy.
Undergoing gait analysis at your local running shop is a wise use of your time – if you've never done it before, it's essentially a fast and usually free way of analysing how your feet hit the floor. In most cases you'll be given the opportunity to jog on a treadmill a few times, each time wearing a different pair of running shoes.
A camera linked to a computer will film your feet and measure how your they hit the treadmill surface, to return an analysis showing which shoes work best for you. It's possible that you might overpronate (your feet roll too far inward, straining the muscles and tendons that support your foot arch) or underpronate (a higher foot arch or instep, putting pressure on the outer edge of your foot). Gait analysis can identify this so that you can choose the right lightweight running shoe in terms of cushioning, support and stability, so you can benefit from those weightless gains without risking your body.
Lightweight shoes by running use
So, what's the plan?
The best runners are always the ones who have a goal or two in mind, and a route to get there. Whether that's something as simple as gradually improving your distance running technique, or something more tangible as training for a marathon, they all count, and they all demand the right kind of running shoe. Luckily, there's a lightweight running shoe to suit every need.
Luckier still, New Balance have every one of those needs covered for you. Let's take a look.

The best lightweight running shoes from New Balance
Here's a selection of our best lightweight running shoes. Mens and womens stylings, all sizes, all needs. Lace up and go.
• The best for speed: New Balance FuelCell Rebel v3
Our FuelCell foam technology not only delivers a lighter than air running experience, but it delivers a supreme rebound to propel you forward. This high-performance lightweight running shoe is big on bounce yet feels comfortable enough to keep you in control.
• The best for everyday running: New Balance FuelCell Prism v2
With a stunning design and high-power propulsive midsole cushioning, the FuelCell Prism v2 is a terrific every day runner. It's super-sturdy too, thanks to a co-moulded medial post to give solid stability without compromising on weight.
• The best for race day: New Balance FuelCell SuperComp Elite v3 – for men – for women
Plan ahead and get your race day shoes now. Designed for long distance races, this lightweight running shoe takes the strain out of competition for a high-propulsion, feel-good effortless run. Built with the Energy Arc system as part of its dynamic design, it contains carbon fibre plates and strategically placed midsole voids to return winning levels of energy return.
• The best for trail running: New Balance FreshFoam X Hierro v7 – for men – for women
Trail shouldn't be a trial. You could be forgiven for thinking that lightweight running shoes might not be up to the rigours of trail running, but the Hierro v7 will make you think again. With a Vibram® Megagrip outsole, this trail runner gives maximum traction and durability on those uneven surfaces, doing everything your foot wants it to. And with a FreshFoam midsole, it delivers incredible cushioning.
• The best for stability: New Balance FreshFoam X Vongo v5 – for men – for women
Keeping you very much on the straight and narrow, the Vongo v5 is a supreme and incredibly comfy stabiliser. Combining the FreshFoam X midsole foam with a study medial post, it's cushioned while helping to provide pronation control. The lace-up system provides a secure fit while the Hypoknit upper delivers stretch and support as you stride.
So if it's lightweight sneakers that you're after, New Balance has you covered. From cushioned running shoes powered by FreshFoam though to lightweight trail running shoes designed to handle any terrain you throw yourself at, look into the light and float through your run with us.